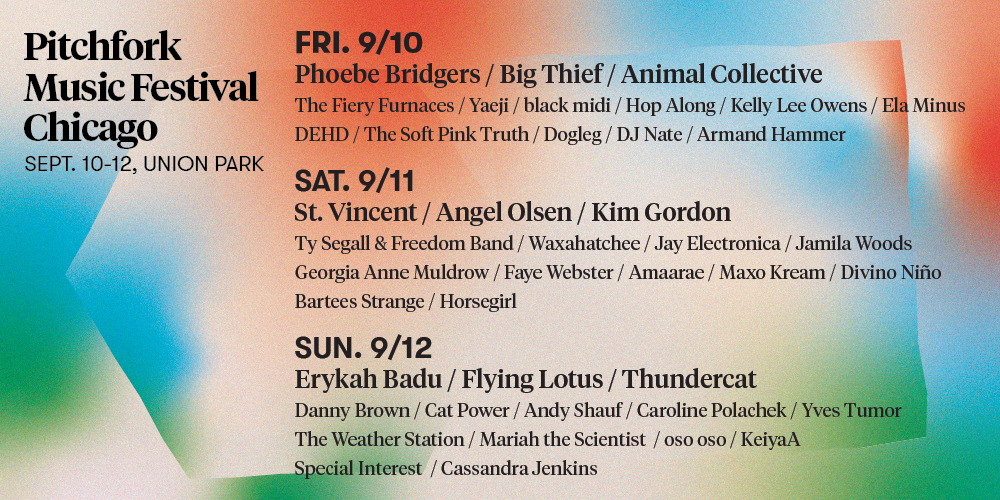 Welcome once again to Pitchfork Music Festival week here at Faronheit! It's always a genuine thrill to provide wall-to-wall coverage of this 3-day live music extravaganza, but especially so in 2021 following last year's pandemic-related cancellation. Of course the pandemic is very much still happening and conditions are not ideal for tens of thousands of people to gather close together and watch performances, however vaccines and masking have greatly reduced the chance of contracting COVID-19 and even breakthrough cases are highly unlikely to result in hospitalization or death. Of course there's also the possibility of infecting your friends and loved ones. It's important to note that attending any large scale public event these days comes with certain risks, and before purchasing a ticket you should determine how much you're willing to accept.
Easy Access: Friday Preview Guide, Saturday Preview Guide, Sunday Preview Guide
If you were going to attend a music festival in 2021 however, I'd argue that Pitchfork would be one of the safest. It's a boutique festival with a daily maximum capacity of 19,000. That's more than 5x smaller than Lollapalooza, which welcomed ~400,000 people over four days and claims that only around 200 people tested positive in the weeks following the festival. Lollapalooza also required all attendees to show proof of vaccination or a negative COVID test taken within 72 hours prior to entry. Pitchfork holds slightly tighter restrictions, allowing for either proof of vaccination or a negative COVID test taken within 24 hours of attending the festival. Photo IDs will be used to match names with documentation. Everyone is also strongly encouraged to wear a mask the entire time, except when actively eating or drinking. Given that Pitchfork crowds tend to be a bit older than your average festival, hopefully most people will take the safety measures seriously and stay respectful towards others. Let "Don't be a dick" and "Give each other space" be your mantras throughout the weekend. Do the right thing, and it'll ensure we all have a low risk and extremely fun time.
All that said, I promise not to constantly drone on about COVID throughout this week's worth of coverage. Just this opening bit and the occasional mention of notable safety precautions (or lack of them). We've been dealing with this pandemic for the last year and a half, so if you don't know what to do and how to behave by now, that's on you. Everything else will hopefully be business as usual. Speaking of which: the lineup. Have you seen it? Pretty great, right? Just a massive wall of talent across genres, including local favorites and an even gender split. Of course if you've paid any attention to Pitchfork and their lineups over the years this is fully expected. There's always plenty to look forward to, and that's especially the case in 2021 when many of us haven't been out enjoying live music again quite yet. There's a lot of pent up energy, which will hopefully translate well to both the performances and crowd reactions.
In an effort to help get you better acquainted with this year's Pitchfork Music Festival lineup, I'm once again thrilled to present a playlist featuring every artist set to perform over the upcoming 3-day weekend. It's an easy way to educate yourself on all 42 names without having to do any real digging. Just enough to get a taste and a vibe for what they're all about, to better decide what to prioritize over the course of your festival experience. For example, if people like DJ Nate and Georgia Anne Muldrow are total blind spots in your music listening habits, shining a little light on their talents might catch your ear in an unexpected way and inspire you to hang out at the Blue stage for their performances on Friday and Saturday.
Use this playlist as your discovery engine, to both find something new and maybe even revisit some favorites you've forgotten about. Everything on this playlist is ordered by day and set time, so it starts with Armand Hammer on Friday afternoon and ends with Erykah Badu on Sunday night. There are two tracks from each artist, because one feels like too little and three feels like too much. Press play at the top, or skip around to your heart's content. Maybe even activate shuffle and see what pops up. No matter how your consume and explore it, I hope you enjoy and that it helps to build your excitement for the weekend ahead!