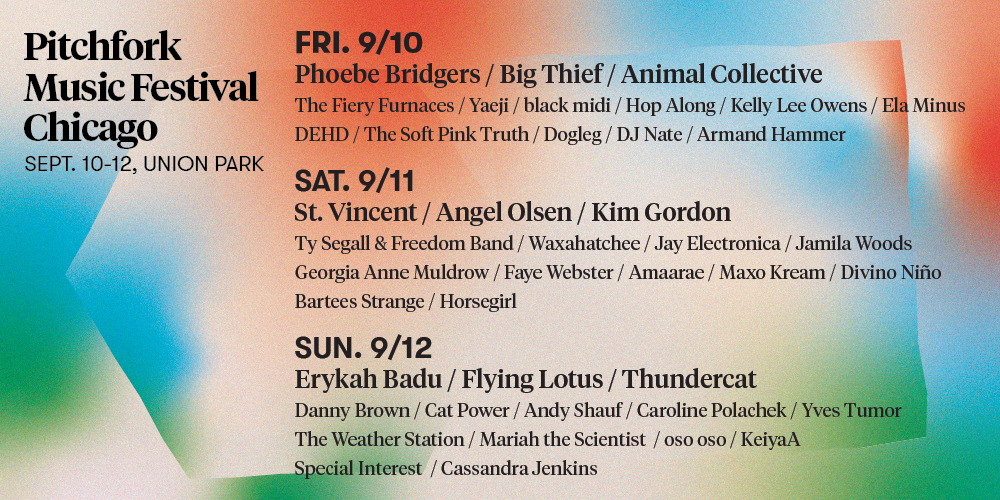 I'd like to wish a warm welcome back to the Pitchfork Music Festival! After last year's cancellation thanks to the pandemic, they've officially announced that a 2021 version of the festival will return a couple of months later than usual, from September 10-12 at Union Park in Chicago. That hopefully gives adequate time for enough people to get vaccinated and new infection numbers to reach a safe level.
Along with the lineup announcement, some initial health and safety guidelines for the festival have been announced. Attendees will be required to wear masks at all times while inside the gates, but masks may be removed when eating and/or drinking. Beyond that, everyone ages 12 and over will be required to show proof of vaccination or a negative PCR test within 24 hours for each day of the festival. That's about as strict and uncomfortable as you can get, but hopefully that level of care keeps everyone safe and prevents this from becoming a superspreader event. Of course if the country continues to improve and we're close to herd immunity by September, some of these restrictions may get loosened.
So let's talk about the lineup! If you happened to look over the lineup for the cancelled 2020 version of Pitchfork Music Festival, you'll notice a lot of the same names are back for 2021. Of course it may not initially appear that way given the three headliners have all been changed. Phoebe Bridgers was listed as fourth on the Sunday lineup for 2020, but thanks to the success of her Punisher record has suddenly been elevated to Friday night headliner status. Good for her! Run the Jewels were set to headline on Saturday in 2020, but Riot Fest snatched them up already for 2021 so St. Vincent steps up as a replacement. A strong choice. As for Sunday, The National are gone from the 2020 lineup and Erykah Badu now rules the day in 2021.
Overall, 19 out of 42 artists have made the crossover from 2020 to 2021. Some of those names include: Angel Olsen, Kim Gordon, Big Thief, The Fiery Furnaces(!), Waxahatchee, Danny Brown, Cat Power, Yaeji, Hop Along, Faye Webster, Caroline Polachek, Dehd, Dogleg, Divino Nino, Mariah the Scientist, and oso oso.
The half of the lineup that's brand new contains some rather exciting artists as well. Animal Collective has headlined Pitchfork twice before (2008 & 2011), and while their status has dropped a little in the last decade, they're still making a long-awaited return to Union Park. Flying Lotus hasn't been on a Pitchfork lineup since 2012, and he's made a whole lot of great music since then that should play really well at the festival. Great to see Thundercat coming back too, along with Kelly Lee Owens, Ty Segall, Jamila Woods, and black midi.
Capitalizing on some hot up-and-coming artists is something Pitchfork does extraordinarily well, which makes names like Ela Minus, Armand Hammer, Bartees Strange, Amaarae, KeiyaA, and Cassandra Jenkins worth showing up early to check out. Other artists making their Pitchfork Music Festival debut include Yaeji, Andy Shauf, Jay Electronica(!), local favorites Horsegirl, The Weather Station, Yves Tumor, and Special Interest.
Honestly, one of the best things about any Pitchfork lineup is the potential for discovery. You've got to be an extremely passionate music fan to immediately recognize every name listed, so chances are there's something unfamiliar in the mix that may end up catching your ear either leading up to or during the actual festival. Have you listened to the latest albums from The Soft Pink Truth, Georgia Anne Muldrow, and Maxo Kream? All worth your time if you haven't checked them out yet. I could say the same about every artist on the lineup. Or buy a ticket and take in their performances fresh just to see if they're your cup of tea. If not, there's almost always another stage to watch or other fun activities to try elsewhere in Union Park. Ideally you'll walk away from the weekend eager to explore and listen to more new and unfamiliar music.
Get more details and buy 3-day passes for the 2021 Pitchfork Music Festival by visiting the official site. Hope to see the top half of all your beautiful faces in Union Park this September 10-12!