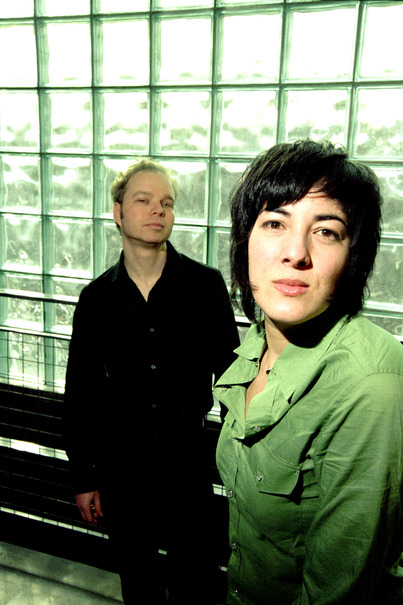 In the long-standing tradition of "ampersand" groups, the last few decades have spawned everything from Simon & Garfunkel to Hall & Oates, Matt & Kim, and Iron & Wine. There are tons more, but in terms of jumping off the page at you, it's a fair set of examples. Often failing to earn a mention among these duos or full bands are Damon & Naomi, otherwise known as Damon Krukowski and Naomi Yang. You can rarely get through a piece about them without hearing how they were the two members of the seminal late 80s/early 90s underground band Galaxie 500 whose name wasn't Dean Wareheim. People loved Galaxie 500 despite their very short-lived history, and as Wareheim has gone onto his own ampersand band Dean & Britta with his wife (I'll give you one guess as to what her first name is), Damon & Naomi kept working together and have put out six full-lengths of original material since 1992. So yeah, they've been making music for a very long time now and even had a lengthy stint on Sub Pop Records during its steady rise to the indie powerhouse it is today. They started their own label 20/20/20 several years back and have been putting their music (and re-releasing the Galaxie 500 catalogue) out on it ever since. After taking a few years away from writing and recording, Damon & Naomi are back with their seventh effort as a duo, titled "False Beats and True Hearts".
As with a number of their previous efforts, Damon & Naomi are once again joined by Ghost guitarist Michio Kunihara, who continues to bring a fascinating tweak to the duo's typically calm and quiet demeanor. Their songs more often float by in dark folk or psychedelic mood pieces than they do straight up rock, so when an electric guitar does buzz its way into the mix it stands out that much more. The album starts with a brief guitar solo from Kunihara before the main melody and vocals come in with a more standard acoustic guitar and drums in support. The electric guitar is by no means gone though, and it flitters in and out of the mix at various times, always a distraction but a relatively welcome one. It's not the sort of thing that Damon & Naomi would have done several years ago, but their slow evolution towards a broader spectrum of sounds has only enhanced their songs and contributed towards keeping things fresh while still maintaining a strong sense of identity. There are even some that assert the duo has largely stalled out and aren't doing enough to keep fans interested in their music. The thing is, there are so few groups that share the same genre DNA as Damon & Naomi, so in effect they don't need to completely revolutionize their sound every couple records in order to continue engaging old as well as new supporters. Just the simple move from the guitar buzz of "Walking Backwards" into the piano-dominant Naomi-fronted "How Do I Say Goodbye" is proof enough that they're more than willing to mix things up just a touch while mining similar emotional territory. The use of other instruments such as saxophones, trumpets, xylophones and a variety of other bits outside of a normal guitar, drums and piano is also something Damon & Naomi have been lightly working with their last couple records, and again they're used in an economical fashion to avoid too much exposition or overstuffed arrangements.
Damon & Naomi's other big assets outside of how their songs are instrumentally composed are their vocals and lyrics. Neither Damon nor Naomi have voices that emphasize strength and forcefulness, but perhaps they've been holding back the entire time to match their rather subdued melodies. No matter if one or both of them are singing on a track, their meekness and just above whisper quiet voices actually add emotion and heartbreak to these primarily sad songs. There's a great warmth added to "Ophelia" courtesy of Damon's vocals, which are additionally mixed in at an equal level with the lush acoustic guitars to help it work that much better. Naomi's best and most confident singing to date comes courtesy of "Nettles and Ivy", a gorgeous song about the earliest of morning hours where the sun is just beginning to peek over the horizon and everything is still glimmering fresh with dew. On the opposite side of the spectrum, "And You Are There" retains the nature imagery but applies it towards the sadness of a sunset, Naomi's voice bringing forth the heartache of the slow burnout that is much more about ending than it is beginning. The nature imagery is one of the main topics the duo explores on "False Beats and True Hearts", while life and love also get their fair share of musings as well, at times under the guise of well-crafted metaphors. With everything put together, much of the record sounds remarkably like something Beach House might put out, albeit with more instrumental flourishes and less outright organ.
If there's a complaint to be had about "False Beats and True Hearts" it's with Damon & Naomi's commitment to mood and atmosphere over anything that resembles pop music. If you're looking for something catchy with a solid hook to it, look elsewhere because there's little to none of that on this album. They've done some of that on previous records, but obviously felt like it wasn't a priority anymore. That will make it harder for those just discovering them to enjoy the record, and by that same token you might have issues with how immensely quiet the whole thing is. Still, if you're in a darker mood, or even a more ponderous mood, this is a good record to soundtrack that. It's not the best thing Damon & Naomi have done either, but it's a gentle reminder that they still know how to make compelling records despite rolling up on what will soon be their 20th anniversary of making music as a duo in the post-Galaxie 500 era. It's a shame they don't get nearly enough recognition for it.
Damon & Naomi – Walking Backwards
Damon & Naomi – Shadow Boxing
Buy "False Beats and True Hearts" from Amazon
Catch Damon & Naomi on tour with Amor de Dias:
Wednesday, May 25 – Toronto, ONT, Horseshoe
Thurday, May 26 – Pontiac, MI , Pike Room
Friday, May 27 – Chicago, IL, Lincoln Hall
Saturday, May 28 – Minneapolis, MN, Triple Rock
Tuesday, May 31 – Seattle, WA, Tractor Tavern
Wednesday, June 1 – Portland, OR, Bunk Bar
Friday, June 3 – San Francisco, CA, Bottom of the Hill
Saturday, June 4 – Los Angeles, CA, The Satellite
Sunday, June 5 – San Diego, CA, Soda Bar