The actions and behavior of a crowd often dictate how well a particular performance goes. Inattentive, unenthusiastic, or just plain rude concertgoers can have an effect on the entire show experience both on stage and off. Last year for example, I saw The Smile perform at The Riviera Theatre and a self-professed "massive fan" of the band standing behind me proceeded to add running commentary through the entire set before someone eventually got security involved. It turned what should have been a transcendent show into a bit of a nightmare.
Thankfully, the opposite is true as well. Great enthusiasm and energy inspires others to match it, and possesses the ability to push a strong performance to an even higher, more transcendent level. The great concertgoing experiences far outnumber the poor ones. At Sleeping Village on Thursday night, I was lucky enough to catch another great one courtesy of Jessy Lanza.


The final stop on Lanza's North American tour in support of her excellent Love Hallucination record from earlier this year, there was a distinct, almost cathartic energy in the air as she took the stage. Perhaps she (accompanied by her bandmate/sister Angie) felt a sense of relief making it to the end of this leg and perhaps the crowd was just amped because it was almost the weekend, but whatever the reason you couldn't help but feel a little intoxicated by it whether or not you had any alcohol in your system.
Things got off to a bit of a subtle start with the mid-tempo deep cut "Drive" seeming to position the set in first gear, because you don't want to launch directly into high energy, you have to build to it. Recent single "Limbo" hit the sweet spot next, and that's when the dancing began in earnest. Much of the crowd appeared to be made up of introverts, as evidenced by a lot of non-aggressive, space respective movement. Not much jumping around, but plenty of shoulder shimmying. That fits well with my own vibe, and I suspect Lanza's as well, as I once overheard her sound described as "dance music for introverts".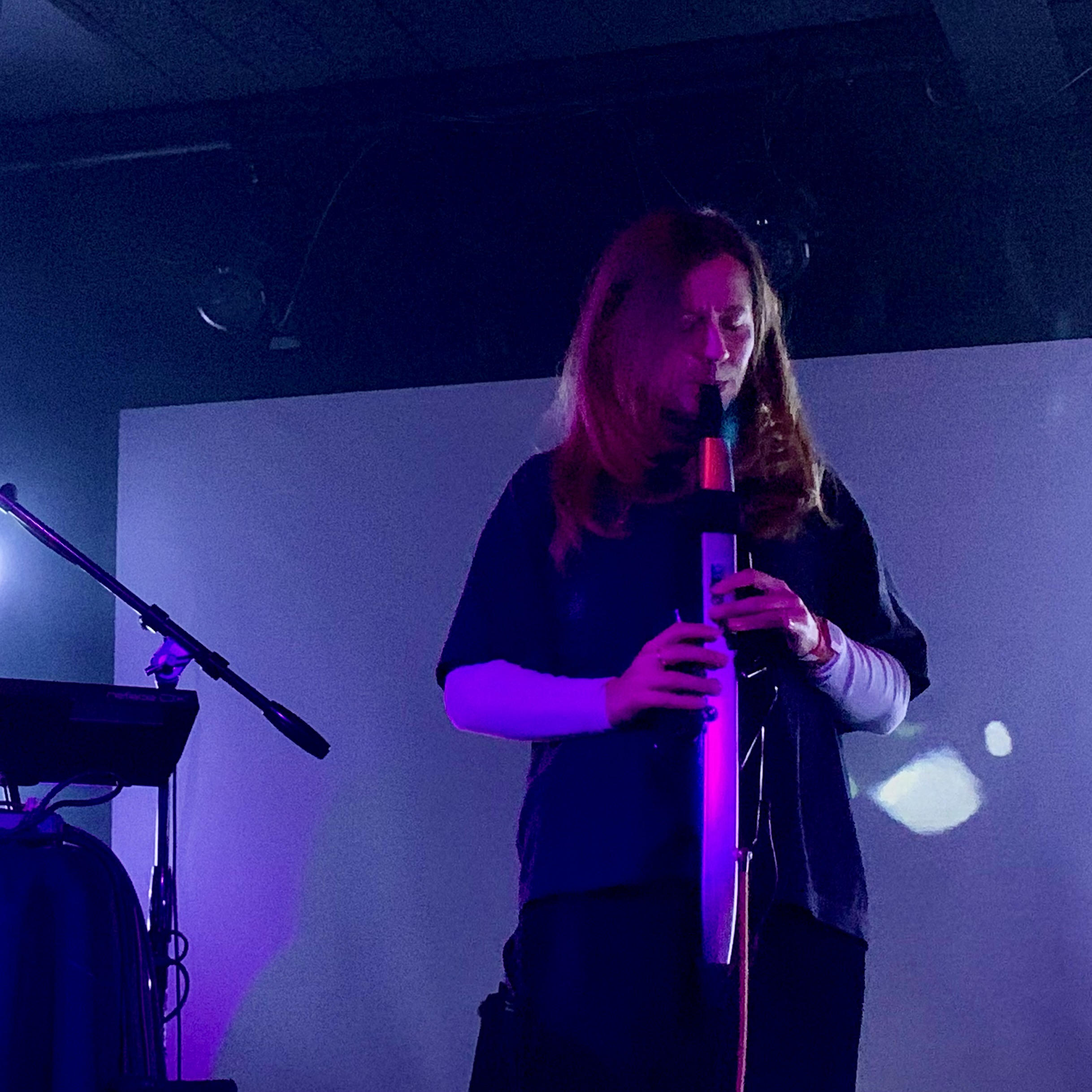 The first half of the set was dominated by Love Hallucination songs, and while "I Hate Myself" received a rousing cheer when it first kicked in, the enthusiasm for "Marathon" sitting right at the center felt like we had been building to this moment all along. It also happened to be right when Lanza placed a digital wind instrument around her neck for some smooth saxophone action. Yes, it was as delightful as it seems. Then the early classic "Giddy" got dusted off, which was a thrill. "It Means I Love You" might have been the biggest highlight of the night, just from a sing-along, clap-along, and dance-along perspective. The stars aligned and the rhythms inclined people to really go for it.
"Don't Leave Me Now" closed out the main set, an appropriate title since everyone appeared to be having a great time. It ended things with another moment of pure euphoria, and made a strong case for anyone to claim it's the best song on Love Hallucination. The cheers when it finished were deafening, and Lanza appeared to be almost overwhelmed by the level of enthusiasm. Instead of leaving the stage and doing the whole performative "encore" action, the Lanza sisters just stayed and played a couple more. "Lick in Heaven" marked the true final song of the night, one more big single to leave things on a high. It's just too bad I didn't notice anyone taking that song's lyrics to heart and spinning around with reckless abandon.


One of my favorite things about Jessy Lanza's live show is the way she favors organic performances. Given the type of music she makes, it would be easy for her to trigger samples and pre-recorded instrumental portions of her songs which she would then sing along to. You see that sort of thing happen all the time with similar artists like Empress Of, Yaeji, and Kelly Lee Owens. It's not that they can't recreate these songs in a live setting, but the cost and effort to hire something closer to an actual band, not to mention the extra instruments to load in/out of every venue, makes it difficult to justify.
But you also can't deny the extra energy and thrill that comes with seeing musicians play together on stage. Lanza managed to effectively blend both worlds. Not every piece of a song could be performed with just two people, so pre-recorded portions were used where necessary while placing an emphasis on live instrumentation. She played the keyboards and the aforementioned digital wind instrument, while her sister/bandmate Angie handled drums and the occasional guitar. It gave every song a spark that undoubtedly wouldn't have been present otherwise, and that in turn fed the crowd's reaction to the material. Jessy Lanza did a fantastic job bringing songs both new and old to the hundreds in attendance at Sleeping Village on Thursday night, wrapping up this leg of the tour with the implication that her efforts as an artist and performer will continue to grow along with the size of her fan base.


Buy/stream Jessy Lanza's latest album 'Love Hallucination'