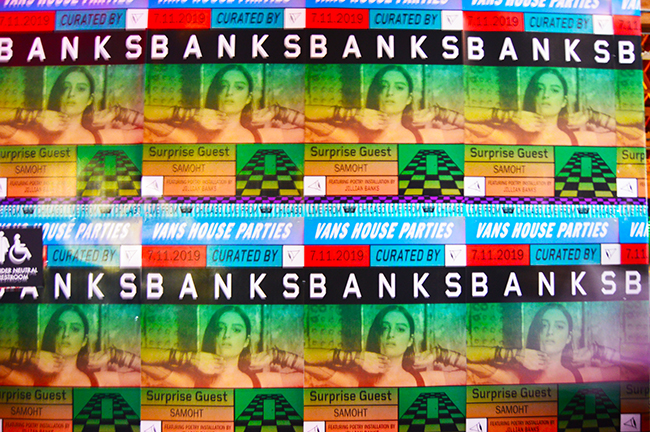 As summer in Chicago (finally) starts to fully kick in, the Vans House Parties are just getting warmed up. The last couple of months have seen shows curated by everyone from Vince Staples to The Breeders to Julien Baker, with more on the way from Taking Back Sunday, Anderson .Paak, The Rapture, and Converge. Yeah, it's a pretty stacked lineup. It all happens at the House of Vans Chicago location in the West Loop, and every show is 100% FREE based on capacity and advance RSVP.


Thursday night's House of Vans show was headlined and curated by alt-R&B artist BANKS, who also happened to be celebrating the release of her new album |||. It marked her first proper show in close to two years, and she used that gap to recharge, write/record new songs, and compose a book of poetry with illustrations (that's titled Generations of Women from the Moon and will be out soon). Some of her poetry and artwork was on display as part of a special installation at the venue, which was a nice addition (and complement) to the music itself.

Kicking off the evening was a performance from SAMOHT (aka Thomas Parker), a Brooklyn-based R&B artist with a powerful voice and a knack for hooks. Clad in a white cowboy hat and holding a microphone adorned with fresh-cut roses, he's been showcasing this look since well before anyone knew the name Lil Nas X or what the yeehaw agenda was. It became clear from the very first song though that he favors substance over style, singing with the sort of passion and sincerity that can't help but draw your attention.


The crowd was largely spellbound as SAMOHT moved around the stage, arms outstretched as if trying desperately to make a connection while belting out songs about love, heartbreak, and finding yourself. There were applause breaks whenever he'd hold a note for longer than a couple of seconds, and a sense of collective emotional catharsis that felt like an undercurrent over the course of the half-hour he was on stage. If the high level of enthusiasm was any indication, there are bigger and better things ahead for SAMOHT.


In the weeks leading up to Thursday's BANKS show, the middle artist was listed on the poster for the event as a "surprise guest". No information was given beyond that until about an hour before doors opened, when it was revealed that Australian DJ Anna Lunoe would be performing. Her name was presumably left out of any promotional materials because also scheduled to be back in Chicago next month for a set at the electronic-focused North Coast Music Festival. Not being particularly well-versed in the international DJ scene, I'm not sure how popular Lunoe is here in the U.S., but the House of Vans crowd seemed to like her.


My two biggest issues with electronic artists are that they're not exactly fun to watch on stage and they often rely on playing remixes of popular songs instead of completely original material. Lunoe mostly anchored herself behind a table of decks, but would occasionally step out to the front of the stage with a microphone and check in with the crowd. She also played a whole lot of remixes (including songs by M.I.A., Yaeji, Khia), but took about 10 minutes at the end of her set to play around with some original material that included some vocals. Overall it was one of the more enjoyable DJ performances I've seen in recent memory, even if I didn't notice a ton of people dancing.


One of the best things about BANKS's fan base is that they're extremely passionate. They love her music, they love her aesthetic, and they love her commanding presence. This is someone who titled her first two albums Goddess and The Altar, so there's a fair amount of worship to be expected. In concert she does her best to live up to those characterizations, using a lot of black colors and darkness in general to provide some mystery while also including plenty of reds to signify both passion and aggression. She is strong and powerful, but also benevolent and loving. Yet there's also so much heartbreak and torment in her songs, and fighting back against those emotional demons is a recurring theme as well. That's why it made perfect sense when she came out on stage to the opening notes of her debut single "Waiting Game" and was immediately surrounded by two shadowy dancers dressed in black from head to toe. Their movements mimicked a struggle that would occasionally sync up and mirror one another, as if falling under a hypnotic spell.


Hypnotic might be the best way to describe BANKS's performance as a whole, actually. Everything flowed with a sense of dark logic that invited the crowd into her world and took you on an intense journey that involved combing through the wreckage of past relationships and moments of self-sabotage in order to figure out exactly who you are, what you want, and how to reach that point. Singles like "Fuck With Myself and "Gemini Feed" provided great inspiration and motivation in the early part of the set, and were met with the wild enthusiasm and sing-alongs they so richly deserved. Of course people also wanted to hear some new material, and the ballad "Contaminated" was the first track from ||| to pop up and it calmed things down for a few minutes. It's a gorgeous yet sad song about a relationship that has become toxic and needs to end.


The album's other two singles "Look What You're Doing to Me" and "Gimme" were both performed as well, and fit in perfectly despite being a bit stylistically different compared to anything from her first two records. The final stretch of "Underdog" into "Beggin for Thread" into "Gimme" was when things really reached a whole other level, energizing the crowd to jump around and dance. BANKS took full advantage and managed to get everyone's hands in the air waving from side to side. Those types of moments only feel right if they're earned, and in her first show since 2017, she went out of her way to make sure nothing was taken for granted.
BANKS Poetry Installation

SAMOHT

Anna Lunoe

BANKS