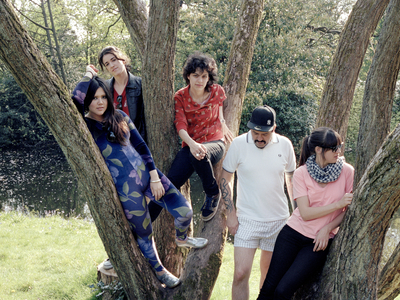 There used to be a time when CSS referred to themselves as Cansei de Ser Sexy. Because it's a mouthful to say in any language, shortening it to just CSS makes it easier on everyone. Their self-titled debut record earned them plenty of hype early on, as the song "Let's Make Love and Listen to Death From Above" spread across the internet and blogs like wildfire. Throw in some charming and unique live performances with a wild frontwoman calling herself Lovefoxxx and it was a recipe for success. That was 2005. Unless you can keep eyes and ears on you for an extended period of time, the hype is going to die down and you'll wind up forgotten. In the case of CSS, it was less waiting 3 years between records and more turning in a sophmore effort that was of inferior quality to your debut. To pull a pun out of it, CSS made asses out of themselves with their second album "Donkey". The issue was primarily that after their joyously off-kilter first record, they sharply toned down the rhetoric and energy for their second in an attempt to be taken more seriously. No doubt they had a serious discussion after the relative failure of that last record, calculating what they needed to do to reclaim much of their earlier praise. Enter "La Liberación", and like its title, the band celebrates freeing themselves from lofty expectations, from their former label, and from the idea that they're anything but a group of Brazilians that love to dance, party and have fun. To put it more in their terms, CSS are back, bitches.
Starting with what would otherwise seem like the very normal title of "I Love You", the band takes that sentiment and next to pulsating synths delivers ever-classy lines such as, "The rain is falling on my head/bringing thoughts it never had/like love and shit". This from the same band that once preached, "Lick, lick, lick my art tit". So not only does the music bring back that celebratory vibe, but clearly their English vocabulary is smartly intact too. Of course if you really want to hear Lovefoxx let loose, the album's closing track is aptly titled "Fuck Everything" and pretty much accomplishes what it set out to do. Does it ever get too excessive? Yeah, after awhile it kind of feels like they're just swearing for swearing's sake. At least they're not looking to generate controversy for controversy's sake. Sex is a somewhat controversial topic, depending on how you look at it, and CSS certainly don't shy away from that. "Red Alert" is pretty much an ode to sleeping around, "Partners in Crime" chronicles one of the easiest seductions in the world, and "Ruby Eyes" tackles issues of jealousy when somebody tries to steal your boyfriend or girlfriend. Matched against the more crass moments are tender bits like "Hits Me Like A Rock", which boasts a winning cameo from Primal Scream's Bobby Gillespie. "Echo of Love" does well for itself too, though I may be misreading it and the whole thing could be innuendo about orgasms. Meanwhile "City Grrl" is a club track in both sound and scope, boasting about how you're free to be and do whatever you want in the big city. It also happens to be the one track on the album that sounds like it was written by a genuine pop star for chart-topping success. It likely won't fulfill that same prophecy for CSS.
In addition to their more trademarked synth-pop sound, CSS try a few different things on "La Liberación" to help mix it up. The reggae bounce of "Hits Me Like A Rock" is a nice little change of pace. The guitar-heavy, punk-strewn title track is unlike anything else on the record either, and that's not just because it's the only song where the lyrics are in the band's native Portuguese. Bits of piano add some nice flavor to "You Could Have It All" and "Red Alert" as well, and don't count out Spanish horns for an extra dose of culture tossed into the club atmosphere of "City Grrl". The good news about these added elements is that it shows some growth on CSS' part. Had those pieces not been there, in spite of how insignificant they might seem, there'd be little to no difference between CSS circa 2005 and 2011. They would have simply backtracked from "Donkey" and resumed on the path they were already headed down. One thing the band doesn't quite realize or fully take into account is how music and trends have changed in the last few years. Yeah, there's still plenty of room for a synth-pop band in today's musical universe, but the more evolved you allow yourself to get the better off you'll be. Synth-pop is largely a genre built on the 80s, and we're on a return trip through the 90s this year. Even glo-fi is starting to wear thin. CSS don't sound desperate, but there are moments where it feels like they're pandering. If "Donkey" was their attempt to be different and it failed miserably, they're now seeking to give the people what they want. In this case it's more a past tense what they want(ed). That said, the first few tracks on "La Liberación" are blends of solid, fun, engaging and mercilessly catchy. If out in the open hooks and body-moving beats are the things you care about most in your music, this record has both in spades and you'll likely fall in love with CSS, either for the first time or all over again. There's still a huge market for this band and it's now a matter of either the band finding that market or that market finding the band. Hopefully it works out for all parties involved. CSS deserve better careers than what they've been given thus far. Only the most cold-hearted of bastards would outright reject a band that tries to espouse the simplest of joys in life – dancing, partying and having fun.