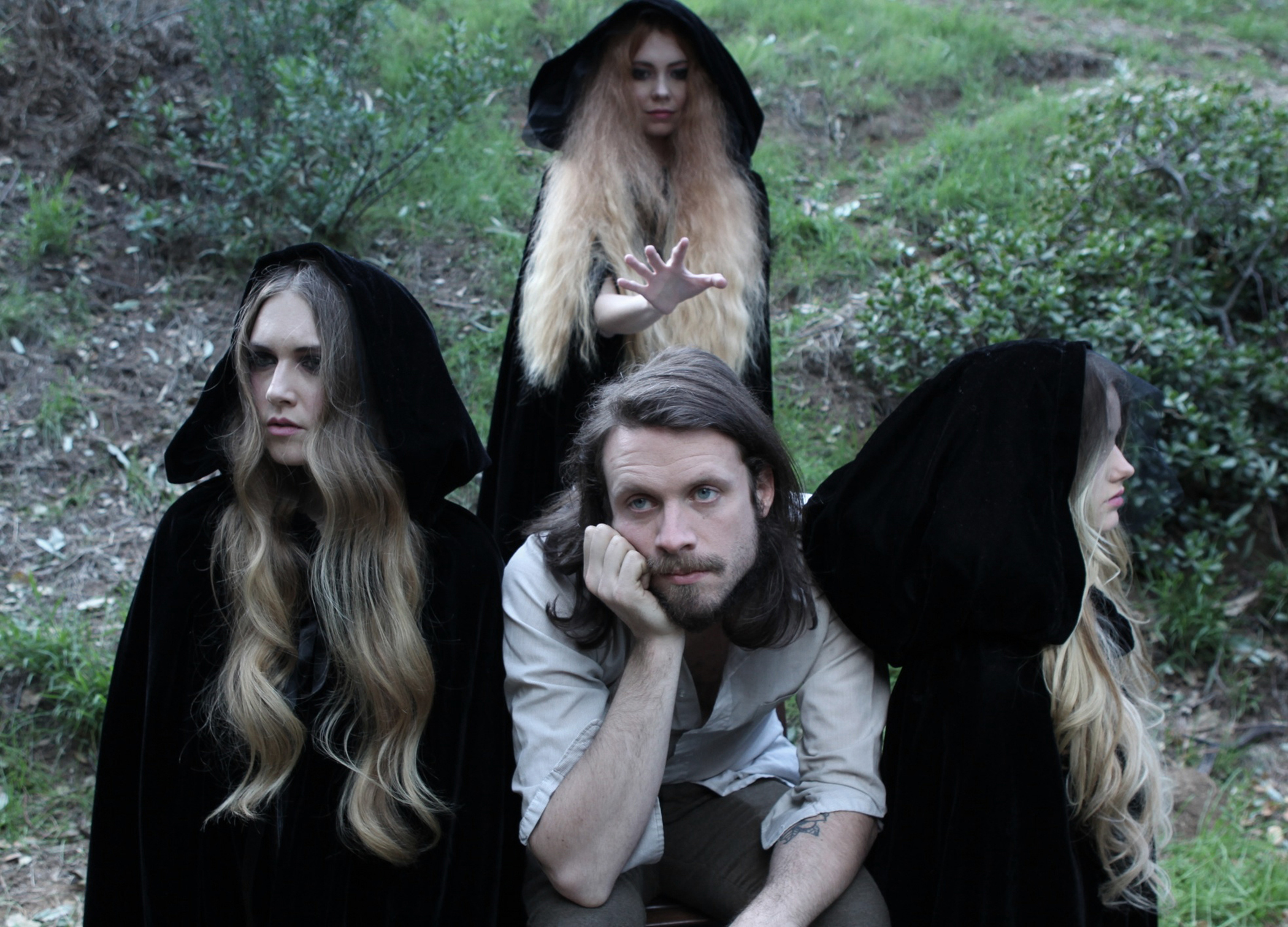 "Look out Hollywood, here I come," Joshua Tillman sings on "Funtimes in Babylon," the opening track to his record Fear Fun, and his first under the moniker of Father John Misty. It's a line that feels very appropriate given the situation that Tillman has put himself in. As the drummer and backup vocalist for Fleet Foxes, he played an important role in helping to shape the band's backwoods folk sound and glorious harmonies that have earned them rave after rave review. Fleet Foxes have become increasingly popular over the last few years and pair of records, to the point where they'd come awfully close to headlining a major music festival. They certainly fared well last summer, headlining the smaller and more boutique setting that is the Pitchfork Music Festival. One wonders why anyone would voluntarily leave a band just as success was genuinely finding them. Yet that's the path Tillman has chosen for himself. He had a reasonably established solo career under his given name of J. Tillman even before joining Fleet Foxes, and his records like Vacilando Territory Blues, Year in the Kingdom and Singing Air began to earn some real attention as a direct result of his other success. Presumably wanting to explore that further and escape the back of the stage drum kit, he announced last year he was leaving the band to focus full time on his own music. He cut a deal with Sub Pop and changed his performing name to Father John Misty.
With a new label and new name he's also shifted his style as well on the new record Fear Fun. The material he released as J. Tillman was singer-songwriter folk with alt-country leanings. He was in a class with Nick Drake, Will Oldham, Gram Parsons and Damien Jurado. A fair amount of those similarities are retained on this new record, but Tillman has expanded his sonic palette a bit and moved his focus from the dreary rains of Seattle into the sunny disposition of Los Angeles. Much of the album was written after a bout of depression and writer's block, which he attempted to shake off by jumping in his car and driving down the West coast with a huge bag of mushrooms and no set destination. He began writing a novel (the likely inspiration for the song "I'm Writing a Novel"), and suddenly his songwriter instincts kicked back in. Upon settling into what he describes as a spider infested tree house in Laurel Canyon, Tillman felt like he'd finally found his true voice. That voice was different from anything he'd done before; the goal was to destroy the artifice of fiction in his music and approach his songs with a candor and honesty so many others actively avoid. Not only is it refreshing to hear, it's also pretty funny. "Pour me another drink/and punch me in the face/You can call me Nancy," Tillman sings at the start of "Nancy From Now On". That's not meant to be taken seriously, as is much of "I'm Writing a Novel", where Tillman has a bad drug trip: "I ran down the road/pants down to my knees/screaming please come help me that Canadian shaman gave a little too much to me". It's not all fun and amusement though. Single "Hollywood Forever Cemetery Sings" is a darkly themed Neil Young-ian dirge about a death in the family, that features Tillman pleading, "Someone's gotta help me dig." On "Now I'm Learning to Love the War", he makes the connection between fighting in the Middle East and the creation of music. "Try not to think about/the truly staggering amount/of oil that it takes to make a record," he points out in something of a depressing fashion.
As straightforward as Fear Fun can be lyrically, its overall execution winds up being a little more complex. Tracks like "Funtimes in Babylon", "O I Long to Feel Your Arms Around Me" and "Everyman Needs a Companion" are gorgeous folk numbers with echo-laden harmonies that almost instantly recall Fleet Foxes. Tillman apparently wanted to help create a bridge between fan bases, and this record is pretty successful at doing just that. Yet it's also adventurous in its eclecticism. Pedal steel and Americana take center stage on "Misty's Nightmares 1 & 2" and "Well, You Can Do It Without Me", while "Tee Pees 1-12" breaks out the fiddles and hand claps for a good ol' fashioned hoedown. Along the way classic records from Harry Nilsson and Waylon Jennings tend to come to mind, though never at the same time. The variety serves the album well, particularly because all the sounds are rooted in the same basic elements and ideas. Turns out that after seven records as J. Tillman and two in Fleet Foxes, Father John Misty arrives fully formed and with a set of songs that are difficult to resist singing or humming along to the more time you spend with them. With a new name, home, label, record and sound, Tillman finally feels ready for the spotlight. Hollywood, he has arrived.
Father John Misty – Nancy From Now On
Father John Misty – Hollywood Forever Cemetery Sings
Stream the entire album after the jump!